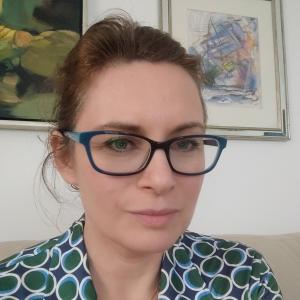 MA, MBA, B.A. Hons, PGDip, DHP Acc. Hyp, CHFP

Andrea Szentgyorgyi

Hypno-psychotherapist
Therapist summary
Anxiety
Autoagression / Self-harm
Depression
Divorce / Separation / Break-up
Emotional instability
Grief
show more
I speak: English, Hungarian
Who do I work with
Therapists - supervision

no
Price:
Personal session

£ 65 / 60 min

Personal session

£ 50 / 50 min

Personal session

£ 40 / 40 min
Would you like to book an online session?
Introduction
We can work together to make you feel better about yourself. So whatever your problem or goal may be, it is important, it matters; you matter, and I am here to accompany you on your journey to achieve your goal.
My experience
I am a registered Hypno-psychotherapist specialising in anxiety, insomnia and non-medical infertility.
As an integrative therapist, I combine different therapy techniques and hypnosis to provide personalised therapy for you.
I believe everybody is unique and needs an approach best suited to their personality and issue.
I have work experience in adult education, education management, media and tourism. I have worked with people from various backgrounds, nationalities and religions, and I have found that no matter who we are or where we come from, we all have our own struggles and difficulties. This was the reason why I studied Hypno-psychotherapy at the National College of Hypno-Psychotherapy. 
I provide a non-judgemental and safe environment for you to resolve your issues.
My education
Masters degrees:
Master in Business Administration
Master in Human Resource Management
Neurolinguistic Programming (NLP), Coaching, Universidad Isabel I, Spain
Postgraduate degrees:
Hypno-Psychotherapy diploma
Hypno-Psychotherapy certificate, National College of Hypnotherapy and Psychotherapy (NCHP), United Kingdom
University degrees:
Cultural Management and Management in Adult Education
European Studies
Professional Communication in Economics, University of Debrecen, Hungary
Professional development:
Advanced Diploma in Trauma Treatment of Complex PTSD (One Education)
Certified Clinical Trauma Specialist – Individual (One Education)
Certified Hypnotic Infertility Practitioner, NCHP, easibirthing practitioner
Depression Counselling and Therapy (Knowledge Door)
Sleep Consultant Diploma (Gateway)
The Science of Well-being, Yale (course)
Psychopathology, NCHP
Diversities and Equalities, NCHP
Online Therapy, NCHP
Advanced Counselling, Level 4, NCC
Insomnia Practitioner, Centre of Excellence (CoE)
Cognitive Behaviour Therapy, CoE
Hypnotherapy Practitioner, CoE
Professional memberships:
National College of Hypnotherapy
Complementary and Natural Healthcare Council
The National Society of Talking Therapies
International Alliance of Holistic Therapies
UKCP trainee member
My diplomas and certificates
What problems do I work with
Anxiety
Autoagression / Self-harm
Depression
Divorce / Separation / Break-up
Emotional instability
Grief
Jealousy
Lack of satisfaction and meaning in life
Loneliness
Low mood
Low self-esteem / Low confidence
OCD / Obsessions and/or Compulsions
Panic attacks in adults
Parenting challenges
Perfectionism / Control issues
Personal growth / Coaching
Phobias
Pregnancy and childbirth
Procrastination
Stress
My approaches
Hypnotherapy
Integrative / Eclectic approach
Mindfulness
Neuro-linguistic programming (NLP)
Person-centred therapy
Solution focused brief therapy
Solution focused hypnotherapy
Memberships and acreditations
National College of Hypnotherapy
Complementary and Natural Healthcare Council
The National Society of Talking Therapies
International Alliance of Holistic Therapies
UKCP trainee member