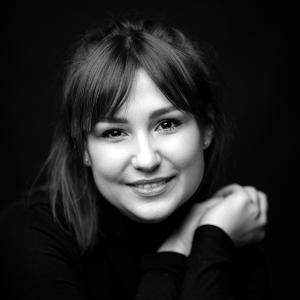 Patrycja Langa
Therapist summary
Aggression
Anxiety
Depression
Intrusive thoughts
Lack of satisfaction and meaning in life
Low mood
show more
I speak: English, Polish
Who do I work with
Therapists - supervision

no
Price:
Personal session

£ 45 / 50 min
Would you like to book an online session?
Introduction
I am a psychologist and a CBT psychotherapist in the process of certification, working online. I mainly work with individuals who experience anxiety, depression, problems with sleeping and stress.
My experience
I gained my professional experience as a crisis assistance in the Crisis Intervention Center of the Foundation Dajemy Dzieciom Siłę in Gdańsk, then through the psychiatric ward under the name of prof. Tadeusz Bilikiewicz in Gdańsk, in AMiE Clinic in Wawsaw and finally in my private practice.
 
My education
Akademia Motywacji I Edukacji - comprehensive training in Cognitive - Behavioral Therapy with Motivating Dialogue
University of Gdańsk - Faculty of Social Sciences - Psychology (MA). Universita degli Studi di Milano-Bicocca-Psicologia
Therapeutic work with patients with insomnia - effective interventions
Perfectionism - How Cognitive Behavioral Therapy and Rational Behavior Therapy can help
In the trap of procrastination - techniques of change
How to enrich DBT with Motivating Dialogue
Motivating dialogue - about sport, changing habits and lifestyle
Motivating dialogue as an alternative to the punishment
9th Cracow Conference of Psychology and Law
Developing the theory of mind
Quality of life with infertility, part II- psychological
Quality of life with infertility, part II- medical
Sexologist in the process of lifelong learning. II. Patient and a sexologist in  the therapy process
Theory and therapeutic practice Between love and hate - about sexuality
Betrayal - problem or symptom? Psychotherapeutic work with a couple
Consensual non-monogamy in aid work
Psychosexual development of a child
The PLISSIT / IC model in assistive work with sexuality
Sexual violence - the perspective of victims and perpetrators
Child sexual abuse: recognition, support, reporting
Sex educators course
ACT revolution- series of trainings
What problems do I work with
Aggression
Anxiety
Depression
Intrusive thoughts
Lack of satisfaction and meaning in life
Low mood
Low self-esteem / Low confidence
OCD / Obsessions and/or Compulsions
Panic attacks in adults
Perfectionism / Control issues
Phobias
Procrastination
Sleep disorders
Social anxiety in adults
Stress
Workaholism
My approaches
CBT (cognitive behavioural therapy)
Motivational interviewing
Memberships and acreditations
I'm a member of the Polish Society for Cognitive and Behavioral Therapy and I work in accordance with the Code of Ethics and Professional Psychology of the Polish Psychological Society.