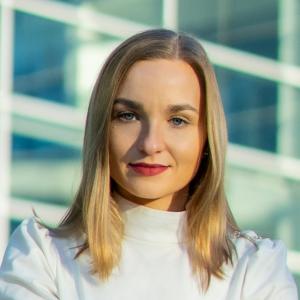 Mgr

Weronika Grzelak

Psychologist, Sex therapist
Therapist summary
Addiction codependency
Adolescence and Developmental breakdown
Anxiety
Arguments / Conflicts
Borderline / Narcissistic / other personality disorders
Communication problems
show more
I speak: Polish
Who do I work with
Therapists - supervision

no
Price:
Personal session

£ 50 / 50 min

Couple therapy

£ 75 / 75 min

Session for a child / parent

£ 50 / 50 min
Would you like to book an online session?
Introduction
I'm a certified psychologist and sex therapist in the process of certification at PTS. Registered member BPS. I am a member of Polskie Towarzystwo Seksuologiczne and Polish Psychologists' Association.
My experience
I cultivated my skills in Dzienny Oddział Psychiatryczny in Poznań, in Poznańskie Centrum Psychodynamiczne, in Psychologiczno-seksuologiczny Ośrodek Rozwoju i Terapii "PORT", in polish clinic Medicare in Reading, in care and educational institutions and in Polish Psychologists' Association, among others.
I have an experience working with personality disorders, sexuological problems, difficulties in relationships, and working with adolescents. I run my own private psychological-sexuological practice in UK.
Additionally, I have my own youtube channel (Weronika Grzelak) where I educate people abpout sexual health, love psychology and forming satisfying relationships. I offer psychological and sexuological help for adults, adolescents and couples.
I offer support in getting to know and understand yourself. I help people who experience sadness, drawbacks and dillemas in their lives, people in crisis. I focus on problems in close relationships and in psychosexual functioning. I support LGBT+ people.
My education
I finished psychology studies in Universytet im. Adama Mickewicza in Poznań, clinical sexuology studies in Wydział Psychologi i Kogniwistyki UAM, "Seksuologia kliniczna – Opiniowanie, Edukacja, Terapia''. Currently I'm in the process of 4-year psychotherapy training in Krakowskie Centrum Psychodynamiczne accredited by Polskie Towarzystwo Psychologiczne. I expand my knowledge and skills using many different courses and trainings. I work under continuous supervision (I currently use services of two different supervisors), I work in accordance with Kodeks Etyczno-Zawodowy Psychologa.
My diplomas and certificates
What problems do I work with
Addiction codependency
Adolescence and Developmental breakdown
Anxiety
Arguments / Conflicts
Borderline / Narcissistic / other personality disorders
Communication problems
Depression
Different expectations
Difficulties adjusting to changes in life
Difficulties in sex life
Discrimination / Mobbing
Divorce / Separation
Divorce / Separation / Break-up
Eating disorders / Bulimia / Anorexia
Effect of emigration on the relationship
Effect of the past on the relationship
Emotional instability
Family problems
Feeling loneliness in the relationship
Grief
Immigration difficulties
Infidelity
Jealousy
Lack of satisfaction and meaning in life
Lack of trust
Loneliness
Long-distance relationship
Loss of interest in the relationship
Low mood
Low self-esteem / Low confidence
Mental / psychological abuse
Parenting challenges
Parents divorce / separation
Perfectionism / Control issues
Physical abuse
Pregnancy and childbirth
Procrastination
Relationship burnout
Relationship problems
Sexual / intimacy issues
Sexual abuse
Sexual dysfunction
Sexual dysfunctions
Sexual identity
Sexual incompatibility
Sexual orientation and gender identity
Social anxiety
Social communication and interaction difficulties
Stress
Trouble conceiving
My approaches
Integrative / Eclectic approach
Psychodynamic therapy
Psychosexual therapy
Memberships and acreditations
I am a member of  Graduate Membersip British Psychological Society, of Polskie Towarszytswo Seksuologiczne, and of Polish Psychologists Association.
Additional information
Publications:
 
,,Komunikacja seksualna kluczem do udanego życia seksualnego'' https://womanintheworld.co.uk/komunikacja-seksualna-kluczem-do-udanego-zycia-seksualnego/ 
,,4 sekrety udanego związku. Co robić, żeby iskrzyło przez lata''? https://womanintheworld.co.uk/4-sekrety-udanego-zwiazku-co-robic-zeby-iskrzylo-przez-lata/ 
,,Slow seks, czyli obudź uśpione uczucia. Jak zadbać o namiętność w związku''? https://womanintheworld.co.uk/slow-seks-czyli-obudz-uspione-uczucia-jak-zadbac-o-namietnosc-w-zwiazku/ 
,,Święta Bożego Narodzenia. Co nas najbardziej stresuje i jak tego uniknąć''? https://eranowychkobiet.com/swieta-bozego-narodzenia-co-nas-stresuje/ 
,,Co robić, aby Twój związek kwitł? Wystarczy 6 godzin tygodniowo!'' https://eranowychkobiet.com/co-robic-aby-twoj-zwiazek-kwitl/ 
,,5 mitów i faktów na temat pomocy psychologicznej. Dlaczego nie przychodzimy do psychologa/ terapeuty''? http://fripp.org.pl/5-mitow-i-faktow-na-temat-pomocy-psychologicznej 
,,Zaburzenia okresu dzieciństwa i adolescencji'' https://psychologwlondynie.blog/2020/02/10/zaburzenia-okresu-dziecinstwa-i-adolescencji/amp/ 
,,Ekspresja seksualna w okresie dzieciństwa'' https://psychologwlondynie.blog/2019/10/13/ekspresja-seksualna-w-okresie-dziecinstwa/ 
,,Zjawisko seksualizacji wśród dzieci i młodzieży'' https://psychologwlondynie.blog/2019/10/26/zjawisko-seksualizacji-wsrod-dzieci-i-mlodziezy/ 
,,Rozłąka rodzinna, tęsknota i eurosieroctwo. Polskie rodziny w świecie migracji zagranicznych – Wielka Brytania'' https://psychologwlondynie.blog/2020/04/30/rozlaka-rodzinna-tesknota-i-eurosierctwo-polskie-rodziny-w-swiecie-migracji-zagranicznych-wielka-brytania/ 
,,Rodzina na odległość – kiedy mama czy tata są tylko on- line'' http://lejdizonline.com/rodzina-na-odleglosc-kiedy-mama-czy-tata-sa-tylko-on-line/ 
,,Kompleks małej miss. Jak seksualizacja dzieci zaburza ich życie dorosłe''? http://lejdizonline.com/kompleks-malej-miss-jak-seksualizacja-dzieci-zaburza-ich-zycie-dorosle/