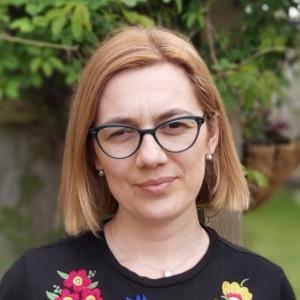 MSc,BA, Dip. Couns.

Monika Kubaczewska-Szymanska

psychotherapist , counsellor
Therapist summary
ACA (adult children of alcoholics & dysfunctional families)
Addiction codependency
Anxiety
Arguments / Conflicts
Balancing roles and responsibilities
Communication problems
show more
I speak: English, Polish
Who do I work with
Therapists - supervision

no
Price:
Personal session

£ 50 / 50 min

Couple therapy

£ 60 / 60 min
Would you like to book an online session?
Introduction
I am a qualified integrative counsellor and CBT psychotherapist during the last stage of training (MSc in CBT and psychotherapy) , I am a couple therapist in training ( EFT therapy ).
My experience
I gained my experience in mental health organisations  in England, I had a one-year clinical placement at the Polish Psychologists Association in Cambridge, working with Poles living in England. I completed a one-year clinical placement in the mental health organization in Cambridge ,Cogwheel Counselling as part of my postgraduate studies, practicing short-term psychodynamic therapy.
 I am currently in a CBT clinical placement practising the cognitive-behavioural approach also in the same organization - Cogwheel Counselling.
While working at JHD counselling in Cambridge, I gained experience working short-term mainly with young people (18-25), students of the University of Cambridge and expats.
I run a private psychotherapy practise. In my practice short-term open ended therapy is available. I work in Polish and English.
Life experience resulting from many years of stay abroad as well as experience in working with clients in various organizations allowed me to understand the emigration process and its impact on creating relationships with other people.
My education
I am a qualified integrative therapist, I completed 4 years of therapeutic counselling training at Hill Road College and JHD Counselling Services in Cambridge.
I am currently completing Masters degree in short-term psychodynamic psychotherapy and CBT (cognitive-behavioural) therapy at the University of Suffolk (Msc in CBT and psychotherapy).
 I completed the first stage of training of the EFT (Emotionally Focused Therapy) therapy for couples ( Externship) I plan to do the next part of the training (Core Skills) in the near future.
I have participated in many trainings, including:
  - introduction to Gestalt therapy,
- introduction to trauma therapy,
-working with sexual violence and abuse
-on-line and telephone therapy
What problems do I work with
ACA (adult children of alcoholics & dysfunctional families)
Addiction codependency
Anxiety
Arguments / Conflicts
Balancing roles and responsibilities
Communication problems
Depression
Different expectations
Different worldviews
Discrimination / Mobbing
Divorce / Separation / Break-up
Emotional instability
Family problems
Family problems / conflicts
Grief
Immigration difficulties
Infidelity
Intrusive thoughts
Jealousy
Jealousy / Suspiciousness
Lack of satisfaction and meaning in life
Loneliness
Low mood
Low self-esteem / Low confidence
Mental / psychological abuse
PTSD (post-traumatic stress disorder)
Panic attacks in adults
Parenting challenges
Phobias
Procrastination
Psychosomatic disorder / Psychosomatic symptoms
Relationship problems
Sexual orientation and gender identity
Social anxiety in adults
Social communication and interaction difficulties
Stress
Suicidal ideation
Trauma / Traumatic events
My approaches
CBT (cognitive behavioural therapy)
Humanistic therapies
Integrative / Eclectic approach
Psychodynamic therapy
Memberships and acreditations
Registered member of BACP 383173
BABCP student membership 00001008874
Additional information
My practice is subject to regular individual and group supervision. I  follow the BACP and BABCP code of ethics, and during the training I undergo intensive CBT supervision.
I have undergone and I am undergoing long-term self-therapy in various therapeutic approaches in order to broaden my self-awareness and self-development.
My greatest area of ​​interest in therapy are relationships and the immigration process, which, according to research, affects mental health (depression, anxiety, social phobia, alienation, etc.). The existential approach and the process of grief is also of great interest to me as a result of immigration process.